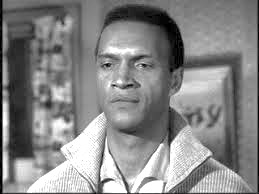 I first met James Edwards when I moved out from New York to Los Angeles in the 1960's. I happened to be passing Ebony Showcase Theatre created and run by Nick Steward and his wife Edna. Steward played (Lightnin') in the cast of the TV series Amos and Andy. The neighborhood theatre presented plays and nurtured many up and coming actors, writers and producers. I was a member of the cast of "Lost in the Stars," a play based on Alan Paton's novel, Cry the Beloved Country.
Frances had worked with James Edwards in the 1950's when they did a show together with John Moreland, writer, on their 90 minutes TV show, "Live at the 5-4 Ballroom" on KCOP, Channel 13. Edwards mc'd all the shows. "He had been in the army and had been wounded which resulted in his having a steel plate in his head. Always youthful looking, his face had been reconstructed so that it didn't change whether he was happy or in pain." (from Frances' biography).
In the films I saw him in, I noticed his limited range of emotions. Nonetheless, I was happy and proud to see him in different roles. Though he portrayed secondary roles, he brought dignity to all his performances. Tall, 6'1, handsome, Edwards was one of the first African American actors to elevate roles played by black actors. So many roles offered to Black actors of his day and earlier were caricatures, stereotypical roles played by a host of actors most notably Stephin Fetchit and Willie Best in which the characters seemed illiterate, silly, fearful, or bossy.
I took one lesson from Edwards but I'll never forget him. He starred in, Home of the Brave(1949) in which he played Private Peter Moss. The film dealt with racial prejudice among the soldiers in the South Pacific during WWII. Between the 1950's and 60's Edwards played character roles alongside Hollywood heavyweights. He played Larry Brant, in The Sandpiper(1965) starring Elizabeth Taylor, Richard Burton, and Eva Marie Saint; He played Corporal Allen Melvin inThe Manchurian Candidate(1962) starring Frank Sinatra, Laurence Harvey, and Janet Leigh. In 1958 he played Eddie in Anna Lucasta, with all black cast starring Eartha Kitt, Sammy Davis, Jr., and Frederick O'Neal. In Battle Hymn(1951) he played Lieutenant Maples with Rock Hudson, Anna Kashh, and Dan Duryea. He appeared in numerous TV shows including Playhouse 90 and Zane Gray Theatre, and series such as Peter Gunn, and Eastside/Westside staring George C. Scott and Cicely Tyson.
Edwards was born March 6, 1918 in Muncie, Indiana. He received his Master's degree in Drama from Northwestern University. He was a first lieutenant, a commissioned officer in the army. He was called before the House Un American Activities Committee (HUAC) but refused to testify before. I'm sure, like Frances, it didn't help his career.
He died of a heart attack on June 4, 1970. He leaves behind his wife, Leola Sayles Mosley, and a son.